Minister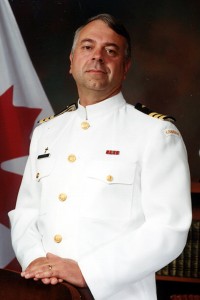 Commander the Reverend George Zimmerman has been Minister of St. David & St. Martin Presbyterian Church since May 16, 2010.
        Commander (retired) George Zimmerman was born and raised in Hamilton, Ont. He graduated from University of McMaster with a degree in Mathematics and then Knox College with a M.Div. Ordained in 1978, at his home church Central Presbyterian, Hamilton, he served the inner city church of Roxborough Park, Hamilton.
A long time member of the Naval Reserve, he, after completing his training as a Naval Officer, accepted a call to the Regular Force in 1980 as chaplain. He continued to serve church and state in that capacity until March 2010.  His naval career has spanned nearly four decades and he has served in various positions at sea, military university, chapel community life, military health care, chaplain education, senior chaplain administration and business planning.
A lifelong student, he completed a Masters in Pastoral Counselling at St. Paul University (1995), publishing a number of papers and presentations. Chaplain Zimmerman is known for the implementation of the Care for Chaplain Caregiver program, designed to support chaplains after a tour of operational duty, the establishment of chaplain services, in military hospitals, to service personnel affected by operational stress injuries, the development of the Chaplain School Pastoral Counselling Course, and a re-organization of the chaplain school. Skilled in administration and planning, he completed his Regular Force Career in senior positions in the Chaplain General's Office. In 2009 Chaplain Zimmerman accepted a reserve chaplain position dedicated to reserve and cadet camp chaplaincy.
As an active Presbyter, Rev Zimmerman has contributed to various presbyteries including work as Chair of the various Pastoral Care Committees, Moderator of two Presbyteries, Commissioner to General Assemblies, Chair of a G.A. commission, chair of a Special Committee for Gracefield Operating Committee, and the Interim-Moderator of St. Andrew's Church, Victoria, Erskine Church, Ottawa, and Knox Church, Ottawa.
George and Marsha Zimmerman have two married children and three grandchildren.